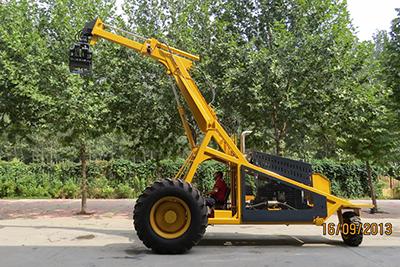 Recommended application
Log grapple of the HY 5800 wood log grapple loader is rotational designed, which can achieve quick stacking and loading of irregularly arranged logs. The loader can rotate at 360 degrees on the spot and the front grapple can be side mounted, with less work place. It also has strong climbing capacity to adapt to various working conditions covering flat, sloping and bumpy roads.
Technical parameters
Operating Weight
5800KG
Grab Capacity
400-1000KG
Engine Brand
Cummins
Model of Engine
4BTA3.9-C100-
Rated Power
74W
Walking Speed
5-7KM/H
Max. Height of Grapple
5040mm
Working Efficiency
1000kg/min
Hydraulic System Working Pressure
22MPA
Maximum Hauling Force
29KN
Slope
0.25
Tyre(standard model)
18.4-30(front dual) front wheel
400-60-15.5(rear one) rear wheel
Wheelbase
3570mm
Note: Hongyuan can provide OEM production and customized machines according to customer requirements.
Features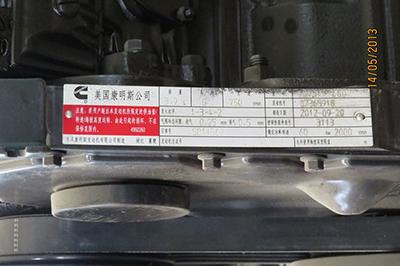 Cummins engine

1. This 3-wheel wood log grapple loader uses the Dongfeng Cummins strong engine, with large torque and strong power. The global joint warranty service is provided as well.
---
2. The loader can walk and stack at the same time, and the driver can complete multiple operations simultaneously through hand and foot cooperation, thus the work is flexible, and the efficiency is greatly improved that a single machine can replace a lot of human work.
---
3. High quality parts are used in all the key parts, such as famous Cummins engine, Korean DOOSAN main pump, which are all made by famous hydraulic parts manufacturers. If any replacement of spare parts is required, customers can find solutions from local suppliers.
---
4. Others:
The wider tyre used on the loader ensures greater contact area with the ground, more stable for wheel turn. It can also available in greater driving force and excellent performance in any muddy areas.
Two prepositive working lights ensure better working conditions for operators to work at night.
---
5. The worktable is controlled by a microcomputer making the water temperature, the oil temperature and the work chronograph be clear at a glance.
---
6. The hydraulic system of HY 5800 wood log grappler loader adopts forced air-cooled heat exchanger, available in ventilation and heat dissipation under high temperature working conditions, keeping temperature of hydraulic oil around 80°.
Hongyuan Vehicle has been manufacturing super quality wheel loaders, is offering front end loaders for agricultural and heavy construction industry. By changing the associated implements on the loaders, we can offer a wide range of special purpose loaders, like sugar cane grab loader, log grapple loader, rough terrain forklift truck, snow plow, rock breaker and so on. With rich export experience and quality assurance, we provide custom need farming and construction equipment with competitive prices.
Index
loader, agricultural loader, wheel loader, grapple loader, front end loader