Recommended application
The heavy duty sugar cane grab loader uses four-wheel drive, the walking speed can reach 25km/h, the maximum grab weight is 1t, and the prepositive grapple can be installed from side, especially suitable for large quantities of sugarcane loading operation.
Practical application
Technical parameters
| | |
| --- | --- |
| Operating Weight | 8600KG |
| Grab Capacity | 1000KG |
| Engine Brand | Cummins |
| Model of Engine | 4BTA3.9-C125-II |
| Rated Power | 93kW(125HP) |
| Walking Speed | 25KM/H |
| Swing Angle of Boom | 110degree |
| Max. Height of Grapple | 6770mm |
| Max. Dumping Height | 5770mm |
| Max. Grapple Radius | 5770mm |
| Total Length | 6500mm |
| Total Width | 2800mm |
| Height of Cab to Ground | 3100mm |
| Wheelbase | 3150mm |
| Track base | 2100mm |
| Ground Clearance | 570mm |
| Operation width of Grapple | 1400mm |
| Height of push plier to Ground | 400mm |
| Tyre model | 23.1-26 16 PR |
Note: Hongyuan can provide not only OEM production, but also products customization as required.
Configuration display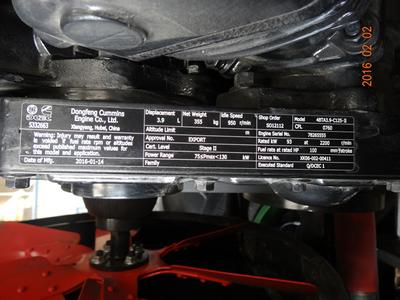 Cummins engine

1. This sugar cane grab loader uses the Dongfeng Cummins 125HP strong engine, with large torque, strong power, and global joint warranty service provided.
---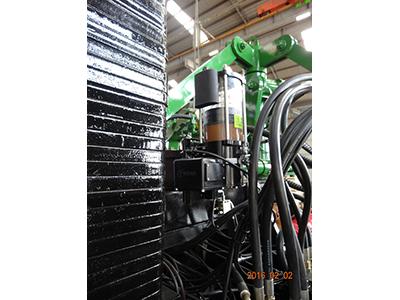 Centralized lubrication system
2. Fully automatic centralized oil supply lubrication system, with high efficiency and reliability.
---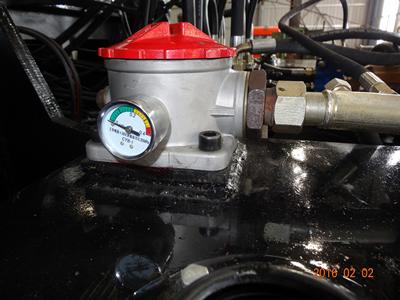 External hydraulic oil filter
3. Hydraulic system of heavy duty sugarcane loader uses forced air-cooled heat exchanger, available in ventilation and cooling under high temperature operation, ensuring hydraulic oil temperature stays around 80°.
---
4. The machine adopts four-wheel drive, which further improves the operation efficiency and the adaptability to the sites.
---
5. The big and small booms are made of high strength alloy steel, more resistant to deformation.
---
6. Others:
---
7. The boom can swing at 120 degrees, walking while stacking, and the driver can complete multiple operations at the same time through hand and foot cooperation, thus each machine can replace large quantities of human work.
---
8. The heavy duty chassis has high rigidity to make structure more reliable.
Hongyuan Vehicle has been manufacturing super quality wheel loaders, is offering front end loaders for agricultural and heavy construction industry. By changing the associated implements on the loaders, we can offer a wide range of special purpose loaders, like sugar cane grab loader, log grapple loader, rough terrain forklift truck, snow plow, rock breaker and so on. With rich export experience and quality assurance, we provide custom need farming and construction equipment with competitive prices.
Index
tractor loader, agricultural loader, wheel loader, grapple loader