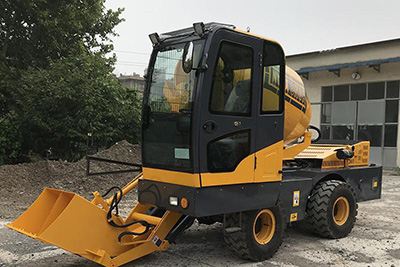 Recommended application
The HY-220 self loading concrete mixer has a discharge capacity of 2.2M3, using four wheel drive, which can independently complete feeding, weighing, pumping, mixing, transportation, unloading six major functions. It is suitable for concrete transportation and site construction operation, which can greatly improve the production efficiency, reduce the time and cost.
The mixer consists of chassis, transmission system, hydraulic system, frame, mixing tank, charging and discharging device, water supply system, operating system, human ladder etc.. The front end of the mixing tank is connected and installed with the reducer on the front of the frame, and the back end is supported by two riding wheels installed in the back of the frame.
Main parameters
| | |
| --- | --- |
| Net weight | 7100 KG |
| Gross weight | 12000KG |
| Tilt angle | 0.3 |
| Travel speed | High speed: 0-30KM/H; low speed: 0-9KM/H |
| Minimum turning radius | 6.5M/R |
| Transmission mode | Full hydraulic transmission |
| Drive mode | 4-wheel drive |
| Control mode | Hydraulic control valve |
| Brake mode | Air Brake |
| Chassis | Off-road |
| Tyre model | 20.5-16 |
| Overall dimensions | 6252*2200*2892mm |
Features

High efficiency
1. The whole vehicle adopts four wheel drive, able to finish transportation and construction of concrete under harsh working conditions. The capacity can reach 10-12 m3/h, greatly saving labor.
2. The loader bucket of increased size is operated by hydraulic pressure, inside which installed with bag breaker, able to automatically finish the unpacking work for bagged materials.
3. The rotation system imported from South Korea is reliable in quality and stable during work.
---
High performance mixing tank
1. The mixing tank can rotate at 270 degrees horizontally to achieve multidirectional unloading so that the work is more flexible.
2. With ingenious taper design, strong sealing ability, higher filling efficiency, when the geometric volume keeps constant, the loading capacity of the tank is increased by 6%.
3. The tank body and blades are all made of high strength wear-resistant steel, of which the service life is increased by 30%. The feed hopper and detachable chute are made of multi-layer high strength wear-resistant liners, of which the service life is increased by 50%.
4. During the loading process, the weight of the material will be estimated and weighed to ensure that the produced concrete meets the requirements of construction, and the precision is within ±3%.
5. The front cone is designed by large lift angle to make uniform mixing, and the slump changes less than 5% in each phase. Meanwhile, the back cone is designed by large glide angle to ensure fast idling discharge.
6. With the unique continuous trace design during mixing, the concrete residual amount is no more than 0.4%.
---
Cab
1. The prepositive cab is set on one side of the hopper, with good closeness, anti-falling and anti-tilting protective system. Air conditioning, rear view camera and other functions are optional.
2. A single handle can complete all hydraulic operations and the longitudinal no resistance design is used to make the operation more flexible.
3. The microcomputer controlled worktable makes the water temperature, the oil the temperature current all be clear at a glance.
4. There are two interlinked limit switches at the front and rear of the control system, which improves the security.
5. The seat can be adjusted to make the driving experience more comfortable.
---
Convenient waterway system
1. With integrated control system, the waterway has one inlet and multiple outlets, which is convenient and fast.
2. The water tank with internal container increases the service life by 50%.
---
Detailed parameters
1. Mixing Drum
| | |
| --- | --- |
| Loader bucket capacity | 0.6m3 |
| Output capacity | 2.2M3 |
| Bank Angle | 16 ° |
| Rotation Angle | 19-21R/min |
2. Engine
| | |
| --- | --- |
| Type | Yunnei |
| Rated Power/RPM | 76KW/2400RPM |
| Max. Torque/RPM | 460N.M/1400RPM |
| Cylinder | 4 |
| Starter | Electric |
| Cooling type | water cooling |
3. Feed mechanism
Weighing model
computer control
Concrete Standard
C15.C20.C25 C30
Accuracy
Cement
≤±2%/time
Relative Error
≤±3%/time
Water
≤±1%/time
Additive
≤±1%/time
Admixture
≤±2%/time
4. Chute
| | |
| --- | --- |
| Swing Angle | ≥60° |
| Angle control | Hydraulic |
| Long Size | 176cm |
| Short Size | 40cm |
Hongyuan Vehicle has been manufacturing super quality wheel loaders, is offering front end loaders for agricultural and heavy construction industry. By changing the associated implements on the loaders, we can offer a wide range of special purpose loaders, like sugar cane grab loader, log grapple loader, rough terrain forklift truck, snow plow, rock breaker and so on. With rich export experience and quality assurance, we provide custom need farming and construction equipment with competitive prices.
Index
heavy duty truck, cement mixer, concrete mix, mixer truck