Recommended application
The hydraulic wheel excavator uses a 44kw engine that can work 6-10 times a minute, with maximum working efficiency of up to 80m3/min, mainly applied to construction and maintenance of urban and rural highways, cable laying, electric power and airport engineering, municipal construction, irrigation and water conservancy construction, rural housing construction, mining, etc.
The machine can be equipped with a variety of optional equipment, so as to meet different users' working requirements.
Working range
| | |
| --- | --- |
| Max. Digging Depth | 3300mm |
| Max. Digging Height | 5300mm |
| Max. Digging Radius | 5700mm |
| Max. Dumping Height | 3900mm |
Technical parameters
| | |
| --- | --- |
| Model of Engine | 4102 |
| Rated Power | 44kW |
| Total Weight | 5600kg |
| Bucket Capacity | 0.28m3 |
| Hydraulic System Working Pressure | 20Kpa |
| Max. Flux | 32ml/r |
| Work Efficiency | 60-80m3/min |
| Working Times | 6-10t/min |
| Grade ability | 25% |
| Max. Hauling Force | 27.4kN |
| Walking Speed | 35km/h |
| Boom Rotation Angle | 360° |
| Overall Dimension | 6080*1980*2870mm |
| Wheel base | 2000mm |
| Min. Ground Clearance | 220mm |
Detailed information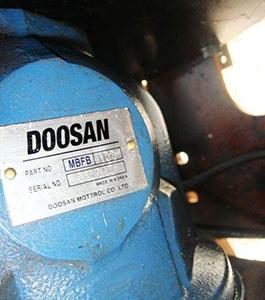 Doosan oil pump
1. The hydraulic systems all use the main pumps, valves originally imported from South Korea, thus the performance is reliable.
---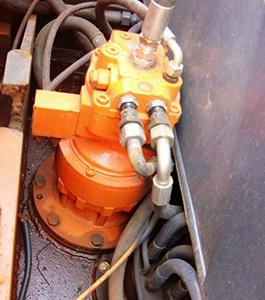 Doosan rotation device
2. The return system adopts Korean original imported rotation device, operating smoothly, portable and flexible.
---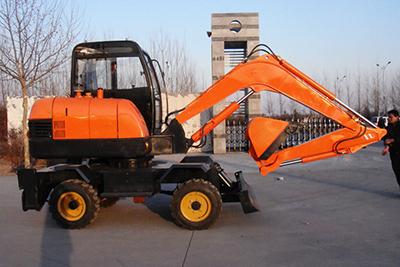 Bulldozing plate
3. The prepositive bulldozing plate facilitates the finishing of the sites.
---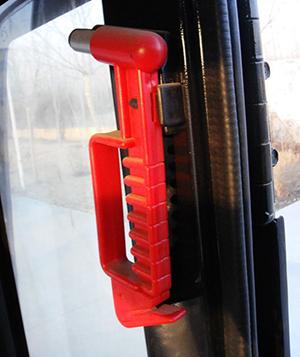 Safety hammer
4. The cab is equipped with a safety hammer.
---
5. The combined monitor with multi language and symbol display can more intuitively and accurately monitor the working status. The intelligent operating system maximizes the working efficiency and minimizes the fuel consumption.
---
6. The low noise and low vibration comfortable seat, the spacious cab with stereo, and the air conditioning system satisfying four seasons working needs, create the "best driving environment".
---
7. The worktable controlled by microcomputer makes water temperature, oil temperature, current, work timing and other information be clear at a glance.
---
8. Rotatable oil tank facilitates refueling.
---
9. The oil return filter is set up in the return oil loop to ensure the hydraulic oil be clean.
Hongyuan Vehicle has been manufacturing super quality wheel loaders, is offering front end loaders for agricultural and heavy construction industry. By changing the associated implements on the loaders, we can offer a wide range of special purpose loaders, like sugar cane grab loader, log grapple loader, rough terrain forklift truck, snow plow, rock breaker and so on. With rich export experience and quality assurance, we provide custom need farming and construction equipment with competitive prices.
Index
wheeled excavator, earth digger, earthmoving