Recommended application
The hydraulic crawler excavator is equipped with Yanma or Yuchai high power diesel engine with excellent performance. The maximum digging range of whole machine is 61.5m, the digging force of bucket up to 37.7kN, working flexibly and reliably. Accordingly, it can be widely used in construction and maintenance of urban and rural highways, cable laying, electric power and airport engineering, municipal construction, irrigation and water conservancy construction, rural housing construction, mining and exploration, etc.
Technical parameters
1. Working range
| | |
| --- | --- |
| Length of boom | 3000mm |
| Length of forearm | 1600mm |
| Max. digging range | 6150mm |
| Max. digging depth | 3820mm |
| Max. digging height | 5760mm |
| Max. dumping height | 4030mm |
| Digging force of bucket | 37.7kN |
| Digging force of forearm | 28.4kN |
2. Main dimensions
| | |
| --- | --- |
| Width of platform | 1885mm |
| Width of cab | 1030mm |
| Height of cab | 2575mm |
| Min. swing radius | 1650mm |
| Min. ground clearance | 350mm |
| Wheel gauge | 1990mm |
| Length of crawler | 2540mm |
| Width between ontrack | 1480mm |
| Width of track | 400mm |
| Length of excavator | 5850mm |
| the width between two crawler | 1880mm |
3. Engine
| | |
| --- | --- |
| Model | yuchai F7403/Yanma94L |
| Rated power | 43kw yuchai/38.1kwYanma |
| Rated revolution | 2200r/min |
4. Hydraulic system
Main pump
Type
Variable axial piston pump
Max. Flow
2*55L/min
Quantity
2
Leader pump
Type
Gear pump
Max. Flow
9.9L/min
Swing motor
Overflow
22Mpa
Main overflow
Moving arm/forearm/bucket
21Mpa
System of swing
21Mpa
Features
---
Drive system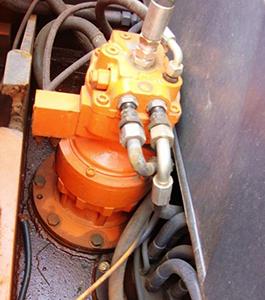 Doosan rotary device
1. The return system using the rotary device originally imported from Korea operates smoothly, portable and flexible.
2. The diesel engine of Yanma or Yuchai brand has excellent performance, low oil consumption, low noise and large power margin.
3. The walking device uses South Korea's original walking assembly, with high and low two gear variable speeds, greatly improving the working efficiency of digging.
---
Oil circuit system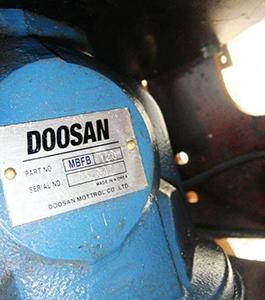 Doosan oil pump
1. All of the hydraulic systems use the main pumps, valves originally imported from South Korea, thus the performance is reliable.
2. German Parker high pressure rubber hose, high pressure resistant, wear resistant, super soft, suitable for harsh working conditions of various types of excavators.
3. The oil cylinder is made through foreign advanced technology, with the function of buffering, greatly reducing working dithering and thus prolonging the service life.
4. The hydraulic crushing system can be equipped with fast connector to meet your personal needs.
5. The aluminum plate multi fin type radiator adopts vacuum brazing technology to promote the turbulence and improve the heat transfer coefficient. With small hydraulic flow resistance, it can be easily controlled even in hot summer.
---
Welded structure
1. The structural parts adopt domestic high quality manganese steel and the welding process meets international standards, that greatly increase the structure strength and ensuring the safety of driving and construction.
2. The whole vehicle is treated by shot blasting that increases the adhesion of the paint and postpones the corrosion of the parts. After welding, the machined structures have strong interchangeability and versatility, and the service life of the parts is improved.
---
Cab
1. The combined monitor with multi language and symbol display can more intuitively and accurately monitor the working status. The intelligent operating system maximizes the working efficiency and reduces the fuel consumption.
2. The comfortable seat with low noise and low vibration, the spacious cab with stereo, and the air conditioning system satisfying four seasons working needs, create the "best driving environment".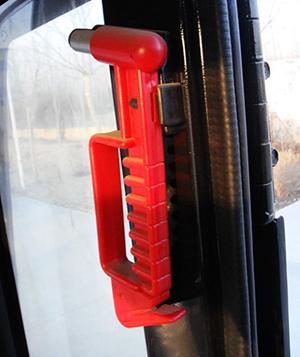 Safety hammer
3. The cab is equipped with a safety hammer.
4. Plastic/sound absorbing materials are packed to the steel plates to make the cab forming a stamping structure, and the buffer cushion with built-in buffer liquid is designed to reduce vibration and make the driving environment safer and more stable.
Hongyuan Vehicle has been manufacturing super quality wheel loaders, is offering front end loaders for agricultural and heavy construction industry. By changing the associated implements on the loaders, we can offer a wide range of special purpose loaders, like sugar cane grab loader, log grapple loader, rough terrain forklift truck, snow plow, rock breaker and so on. With rich export experience and quality assurance, we provide custom need farming and construction equipment with competitive prices.
Index
hydraulic excavator, earth digger, earthmoving